Exploring the Top 5 Slack Integrations for Community Collaboration
Effective communication and collaboration are the cornerstones of vibrant digital communities. With these 5 Slack integrations, community managers can enhance their community engagement and productivity.
Effective communication and collaboration are the cornerstones of vibrant digital communities. With Slack, community managers can enhance their community engagement and productivity. To supercharge your community's Slack experience, we've curated a list of the five best Slack integrations for communities:
Surf:
Community platforms are great, but we all know how messy they can get– especially on a Slack workspace with 20+ channels. If you're constantly scrolling to find that one thing you know would be the perfect addition to your project, we have a great solution for you. With Surf, you can effortlessly identify information lost in thousands of attachments, Slack messages, and links to make finding information within your community a little more manageable.
Features we love:
Precision search: Filter through content and people to get the refined information you were looking for!
Multiple community platforms: When you ask Surf for an answer, content can be sourced from multiple community platforms like Notion, Airtable, Slack and more! This is super handy for finding materials you know exist but aren't sure where.
Deep linking: Surf goes into the links you've sent to return high-level information you might be searching for. We especially love that Surf can return full profile information from LinkedIn links (education, job titles, experiences, etc.)
Details, details, details: Surf will tell you where it sources its answers from so that you don't accidentally end up like this guy. Not the answer you were looking for? You can mark the documents it pulled from as "Not helpful" and be on your way!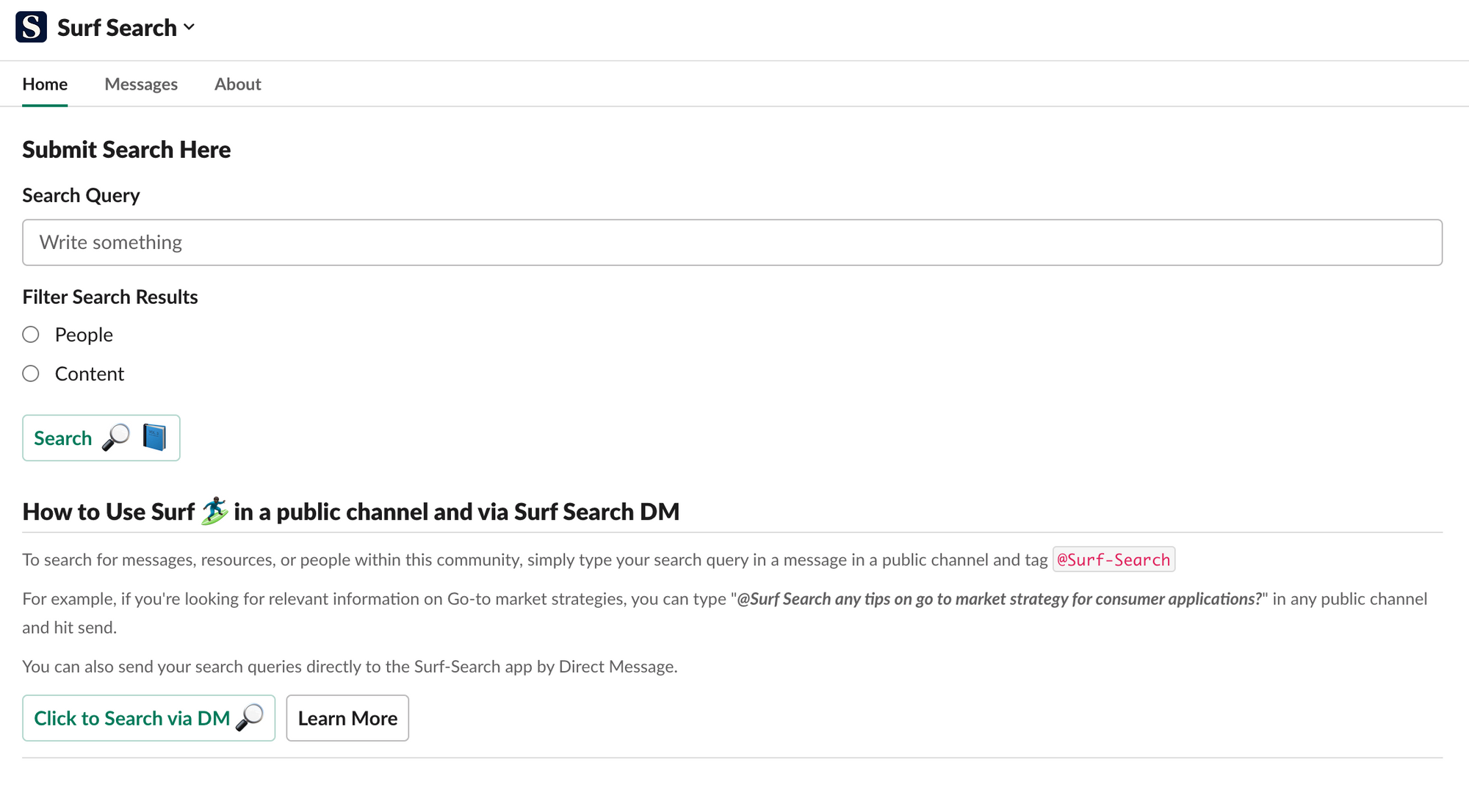 Check out Surf here
When it comes to building connections and fostering relationships within teams and communities, the hybrid workspace has been a bit of a challenge. Enter Donut! Donut allows users to set up automated programs within Slack that pair team members for virtual coffee chats, lunches, or meetings based on common hobbies, goals, and more. This integration helps break the ice, encourages networking, and strengthens collaboration among team members. By promoting regular interactions and relationship-building, Donut contributes to a more engaged and connected community within Slack.
Features we love:
Social features: Donut lets you take coffee breaks with your teammates and even identifies shared free time to facilitate better connection.
Conversation starters: Donut will prompt you and your connected teammates to have a conversation that goes beyond just work to build familiarity and comfort with each other! Ultimately, you'll find yourself more productive and jumping into co-working without forced small talk.
Peer mentorship: mentors are a pivotal part of any career. With Donut, members of your community will be matched with their perfect mentor and learn through their connection!
Check out Donut here
Calendly:
Scheduling meetings can be hectic, especially when your team is hybrid or remote. Calendly allows you to avoid chaos and book yourself on your teammates' calendars. The Calendly integration with Slack goes one step further, simplifying the process of scheduling meetings and events for community members. By eliminating back-and-forth email exchanges, Calendly allows community managers to share availability and enables members to book time slots directly through Slack.
Features we love:
Effortless Scheduling: Simplify event planning by allowing community members to book appointments directly from Slack instead of waiting 1-3 business days for "the right time".
Personalized Meeting Slots: Create customized meeting slots and effortlessly share them within your Slack channels.
Streamlined Coordination: Minimize scheduling conflicts and reduce the back-and-forth of arranging meetings.
Check out Calendly here
Wonder:
Forgetting things sucks. Wonder, another fantastic Slack bot, exists to help you relieve some of the stress from burnout and forgetfulness. Just tell Wonder what to remember when you have top-of-mind information, and thank the Slack overlords when you can ask the Wonder bot what that one dietary restriction Sharon from the Florida office has during her visit. It's a nifty tool and really helps your community keep on flowing without waiting for meetings to end or workdays to start to get small answers.
Features we love:
Natural language: Wonder bot feels like talking to a super-awesome-and-definitely-human assistant who never forgets anything. (#notanad)
Community reminders: Anyone in your team can ask Wonder about the information it remembers. If you forgot to ask Wonder to remember the KPI you're supposed to be tracking, maybe someone else did!
Dashboard of memories: We absolutely love that you can modify your existing memories… if you remember to!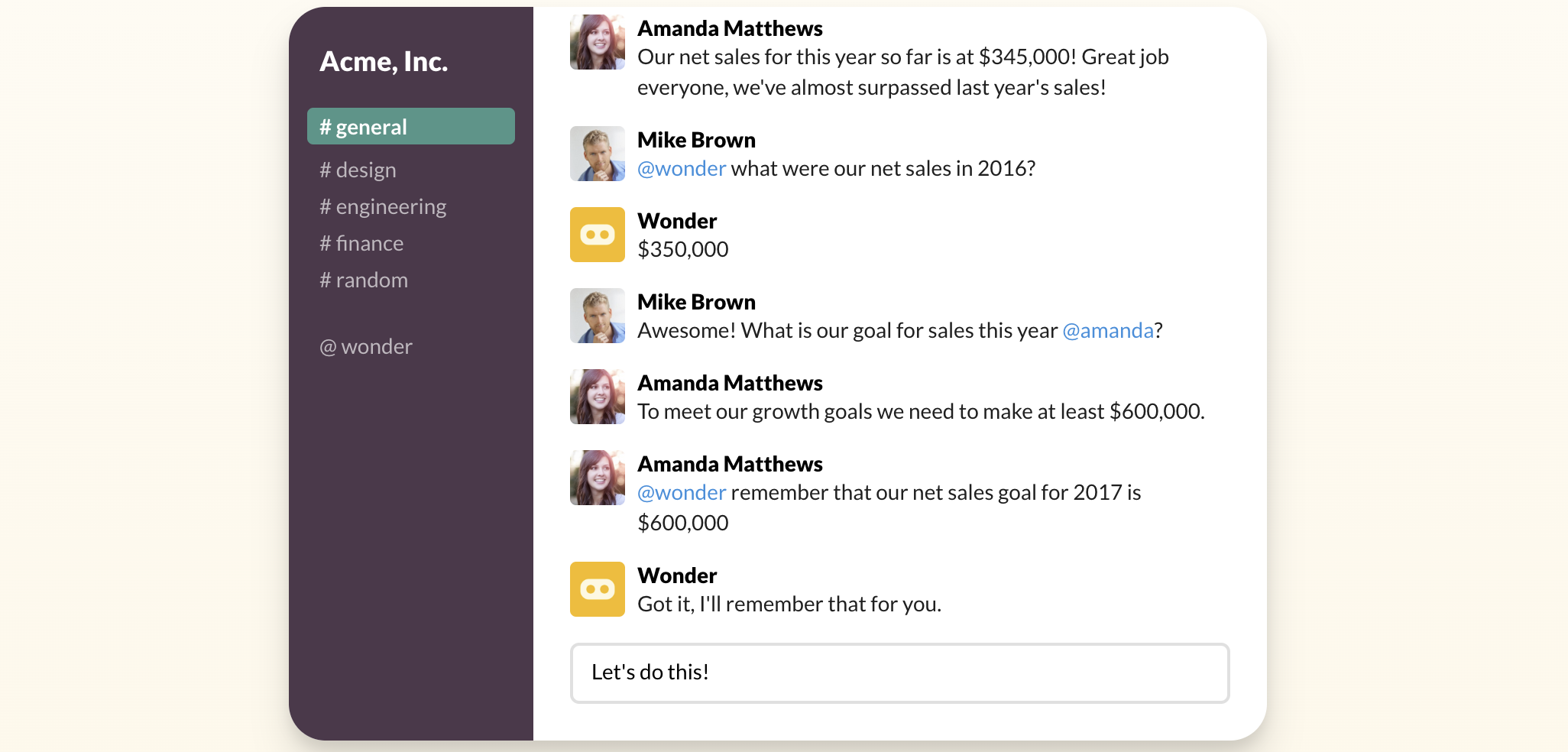 Check out Wonder here
Grow:
As a leader and community member, recognizing achievements makes a difference! With Grow.io, community members will have their achievements celebrated and be able to set goals and reflect on their work with this super handy integration. Grow highlights the importance of small moments and the big impacts they can have on your community.
Features we love:
Polls: Whether you're being asked about how you felt on your last call or trying to guess what your teammate's favorite brand of cereal is, Grow is constantly asking you questions.
Integrations for all: Whether your team is 100% a Google Workspace team or dedicated to Notion or Jira, Grow can see and celebrate your community and its work.
Coaching: Grow facilitates supportive coaching and makes feedback accessible to the people who need it.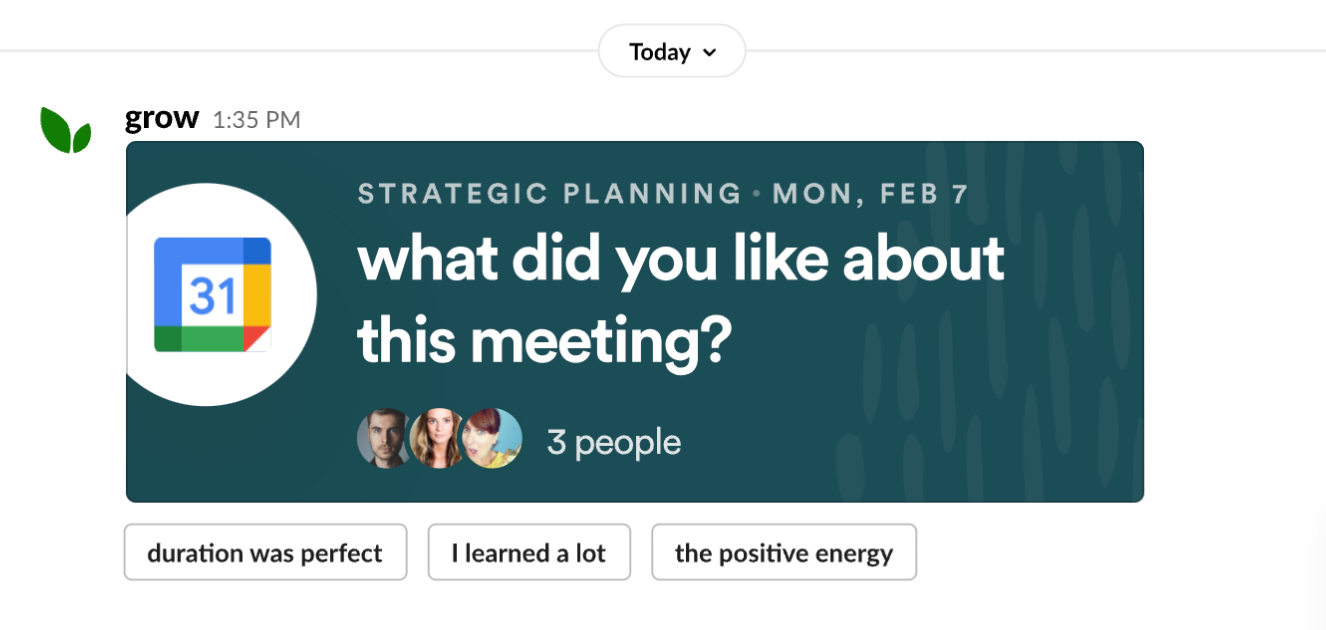 Check out Grow here
Closing thoughts
Whether you're collecting feedback, facilitating connections, streamlining scheduling, fostering creativity, or nurturing feedback loops, Slack integrations elevate your capabilities. If you found a new tool you're considering for your community, try exploring more top-of-the-line integrations at Lunch Pail Labs!